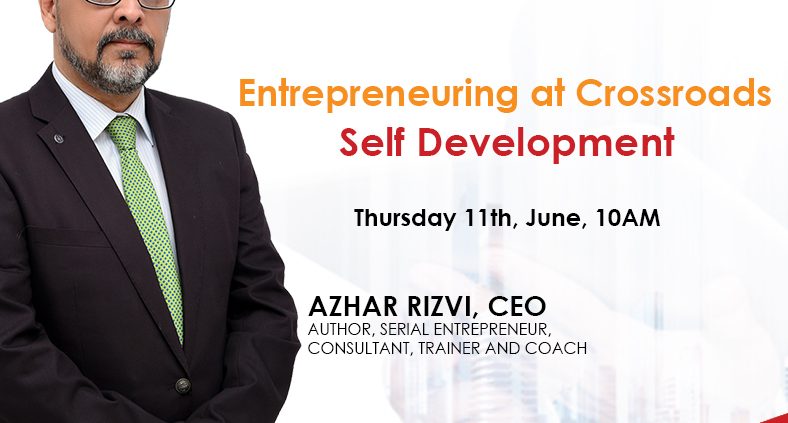 The session started with self awareness test comprising of 3 questions that were asked from the audience
What are the 5 important projects you are thinking of? (Any project related to home office friends etc)
What are the 5 future projects you want to do?
Who are 5 important people of your life ? (That can be your pet too) mostly people don't admit but the answer is me or myself too..
Entrepreneurship and self awareness
Firstly, know your passion and your interests where you want to work in. Finances are not the issue, the rule for entrepreneurship is you have to give angel funding and take angel funding too in the business but its really systemic that you do financing from customers through serving your services to the customer.
Now think of following for the self-assessment of your passion:
First by trying to know your customer needs.
What are the business needs and requirements and how can I be an effective member to offer services?
What services you can give?
Secondly, know your market need and what you can do as an entrepreneur. Some business model are still growing in this corona situation because they are working for the masses eg people are still using WhatsApp and Facebook whose business are growing still.
Talking about the opportunity in Pakistan, the opportunity lies in the population of 22cr people and today 70% are below the economic line which means approx 17 cr of population can spend around 200 Rs today. And the idea is develop an application for them which can generate revenue for you and people will be ready to for it if you'll think about their needs.
Thirdly, now know opportunity for yourself . Attach your passion with customer's need because the masses are our target like discussed before. Here were discussed 3 key points
Understand your self first
Select your target market which best matches your traits
Today know the need of working for low end places and slum village who can't themselves address their problems and needs
The living example of Yasmin Lari was discussed who is architect by profession but she has the passion to create resistance towards begging. And she planned to diminish it and went 8 different villages and has trained around 60000 women there
We can also train the underprivileged people and help them but the note is never exploit them
Another example of Humaira Bachal was shared, read about her here http://www.amazingpakistanis.com/humaira-bachal.html
Again the session emphasis was to see the people and markets where the needs are not met and this gap can be the biggest opportunity for an entrepreneur, because in the market of approximately 15 cr people if you can sell a product of 1 Rs you can easily earn 15 cr today.
The another key note mentioned at the conclusion was that the problems will come but you dont have to stop with the problem because self development basic thing is patience and developing skills in this time to come out stronger than
https://cambridgeadvisorsnet.com/wp-content/uploads/2020/06/Entrepreneuring-Crossroads.jpg
667
788
Cambridge Advisors Network
https://cambridgeadvisorsnet.com/wp-content/uploads/2020/04/logo-4.png
Cambridge Advisors Network
2020-06-19 05:10:06
2020-06-19 05:10:06
Entrepreneurship and self awareness